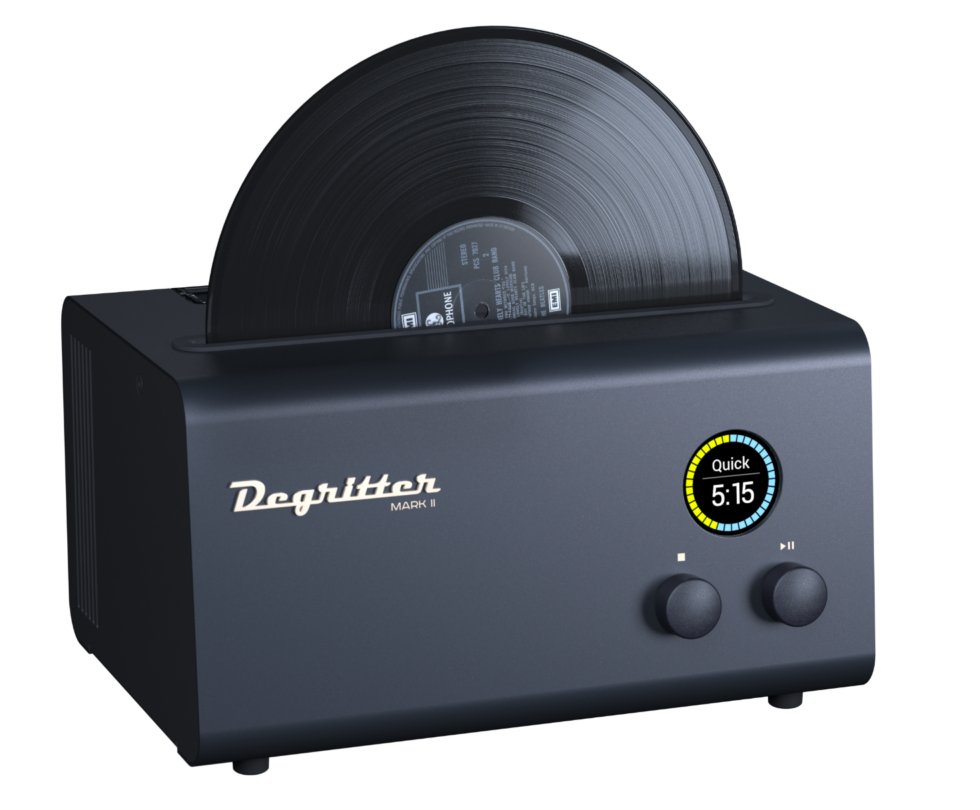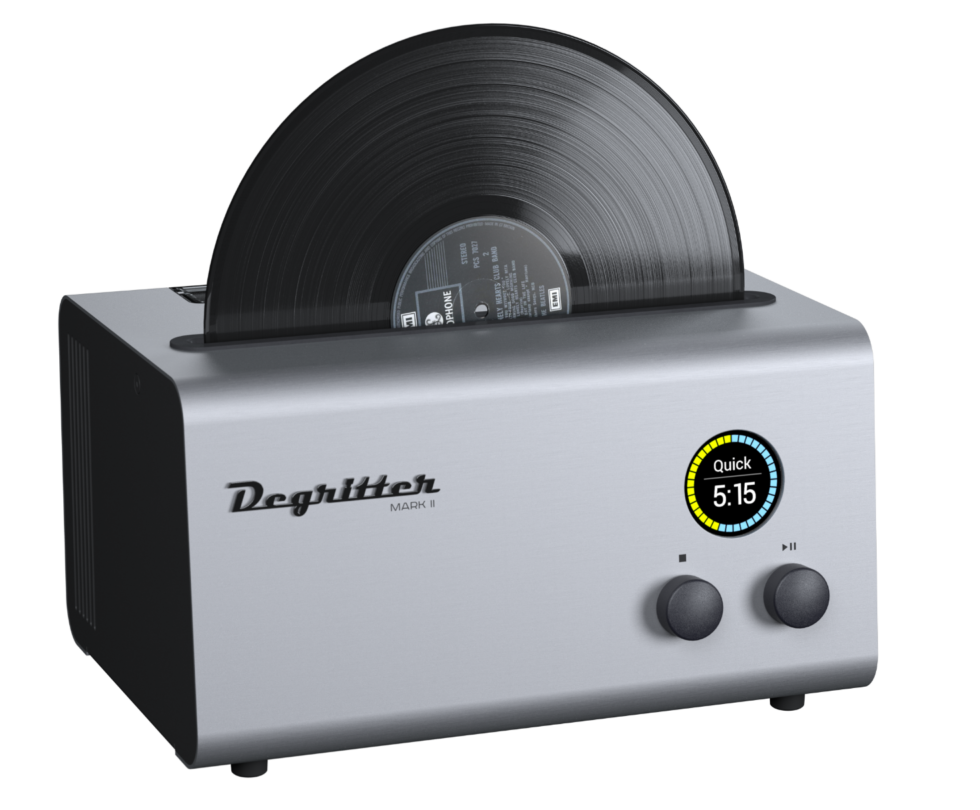 New MARK II
Degritter MARK II offers sophisticated ultrasonic cleaning and smart functionalities for more convenient use.
New features:
Ultrasonic Power Drive 2.0 – stronger, but safe for the record
Pulse Mode cleaning – better cleaning effect, low power consumption
Polished exterior design – in keeping with our high design standards
Designed For You
Distinctly Automatic
The Degritter is fully automatic, requiring no additional effort after the cleaning cycle has started. Use the free time for listening to records instead of cleaning them.
Simple Water Management
The machine has a convenient removable water
tank for replacing cleaning water.
Perfect Touch Buttons
We have perfected the feel and function of the machine's buttons. The rotations and presses provide most satisfying feel you will be unable to let go of.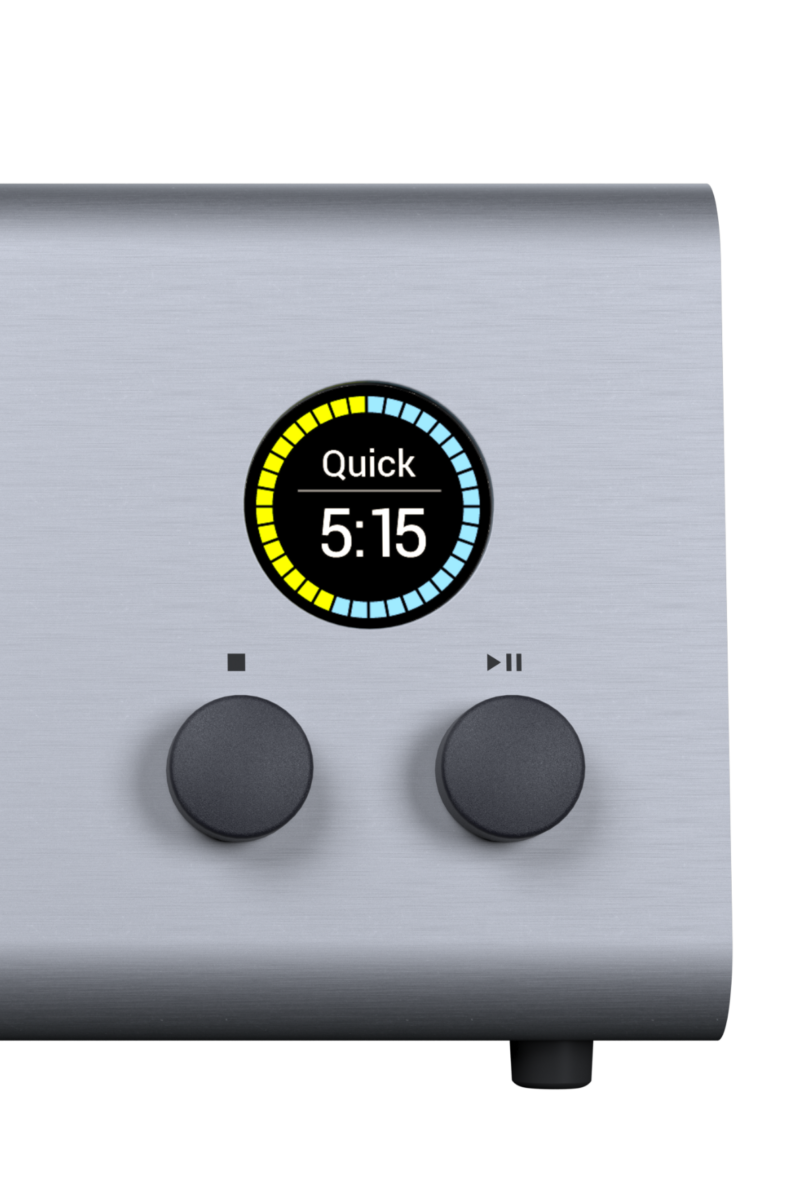 Clever Features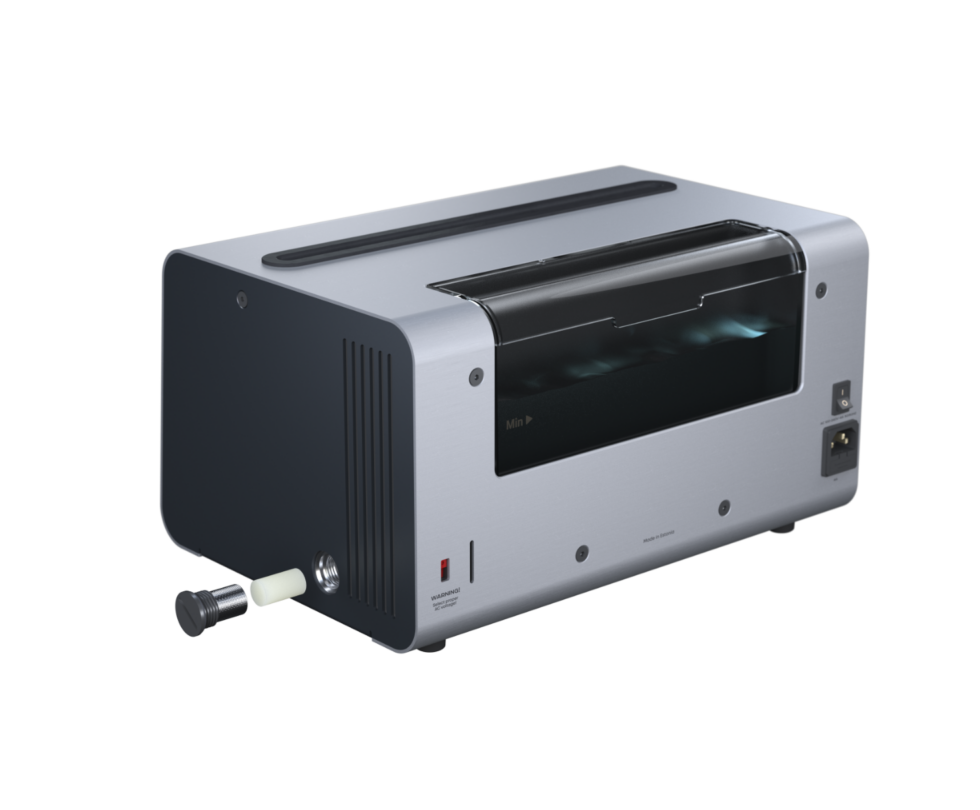 ACTIVE FILTERING
Cleaning water is pumped through a replaceable filter during washing. Continuous filtration keeps removed dirt from ending back up on the record.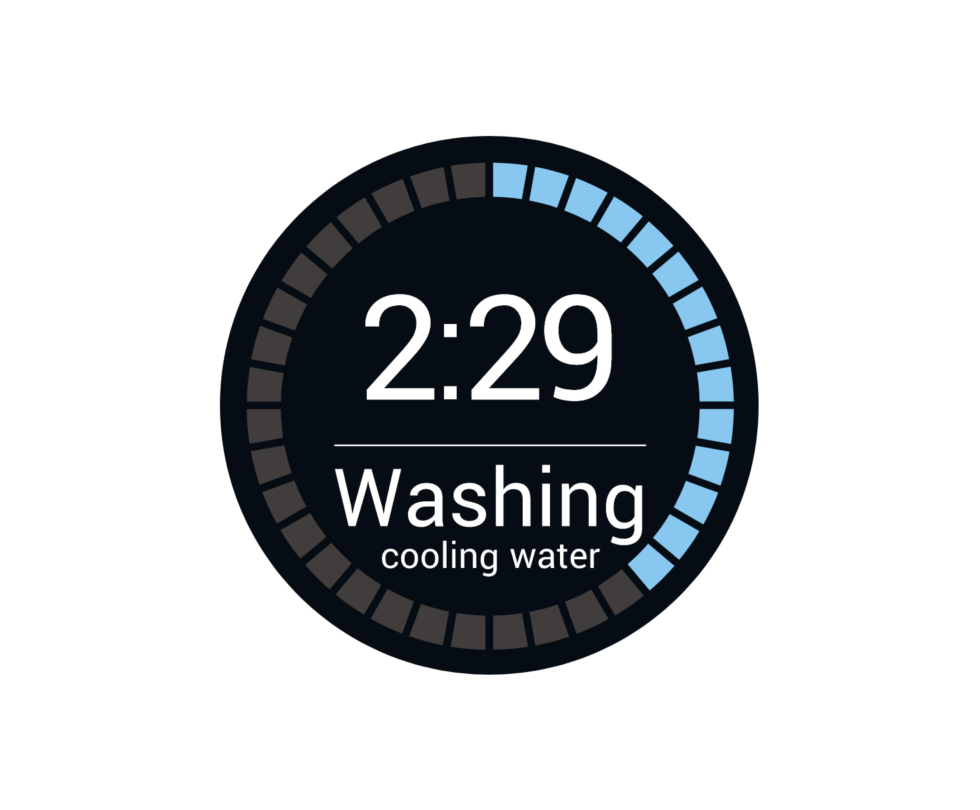 RECORD SAFE
TEMPERATURE CONTROL
Degritter monitors water temperature and
prevents it from rising to levels harmful for vinyl records. High temperatures are managed by automatic cooling cycles.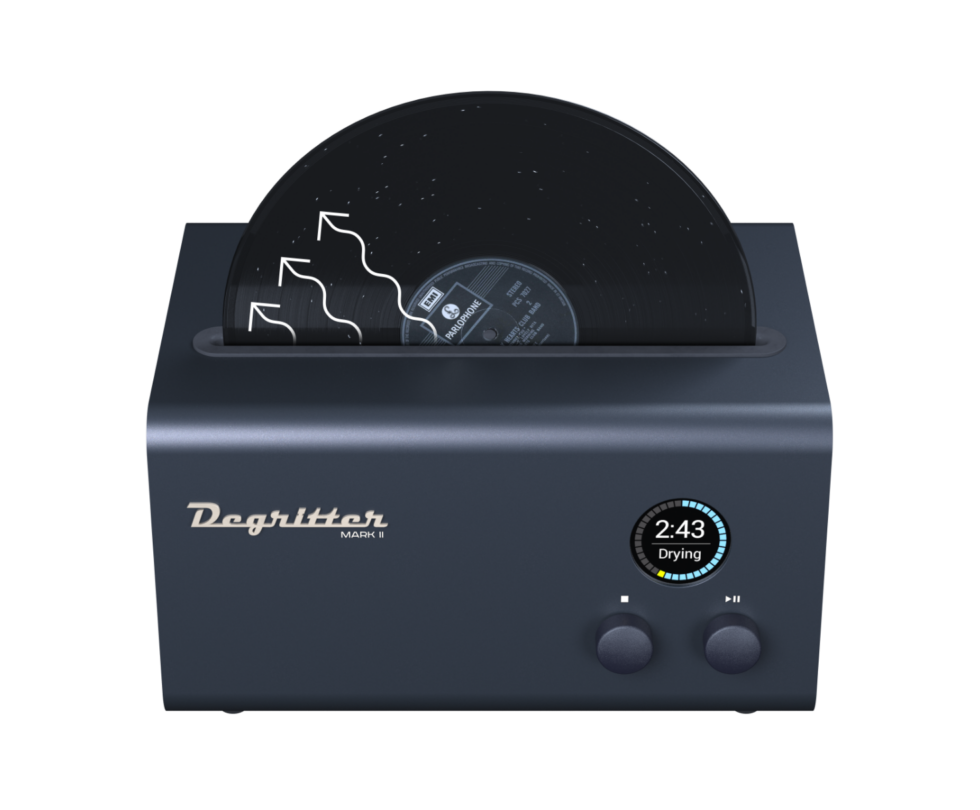 SMART DRYING
Records are dried by a flow of filtered air. Both the drying time and fan speed can be adjusted to keep noise levels in check and to prevent static electricity build up.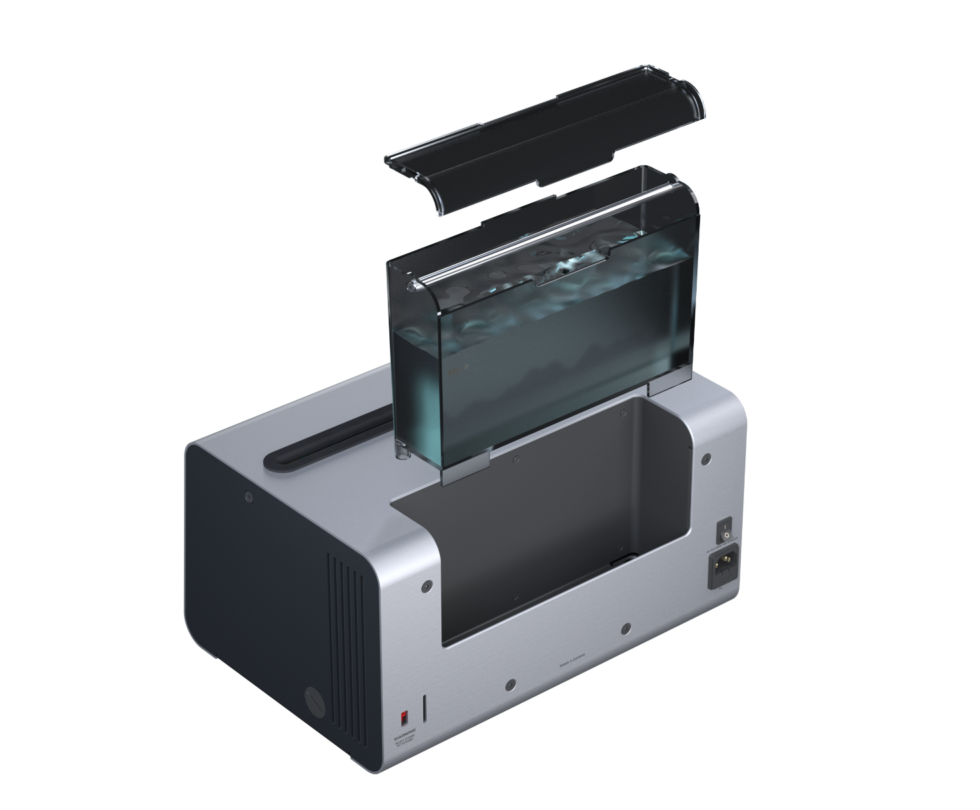 POSTWASH RINSE OPTION
Degritter supports rinsing records during washing cycles with the help of a separate water tank.
Ultrasonic Cleaning
Architecture
4 Transducer Layout
Ultrasonic cleaning tank that's in Degritter is purpose built for vinyl records. The tank has two ultrasonic transducers on either side emitting 120 kHz ultrasonic vibrations, evenly distributing the cleaning energy across the record's surface.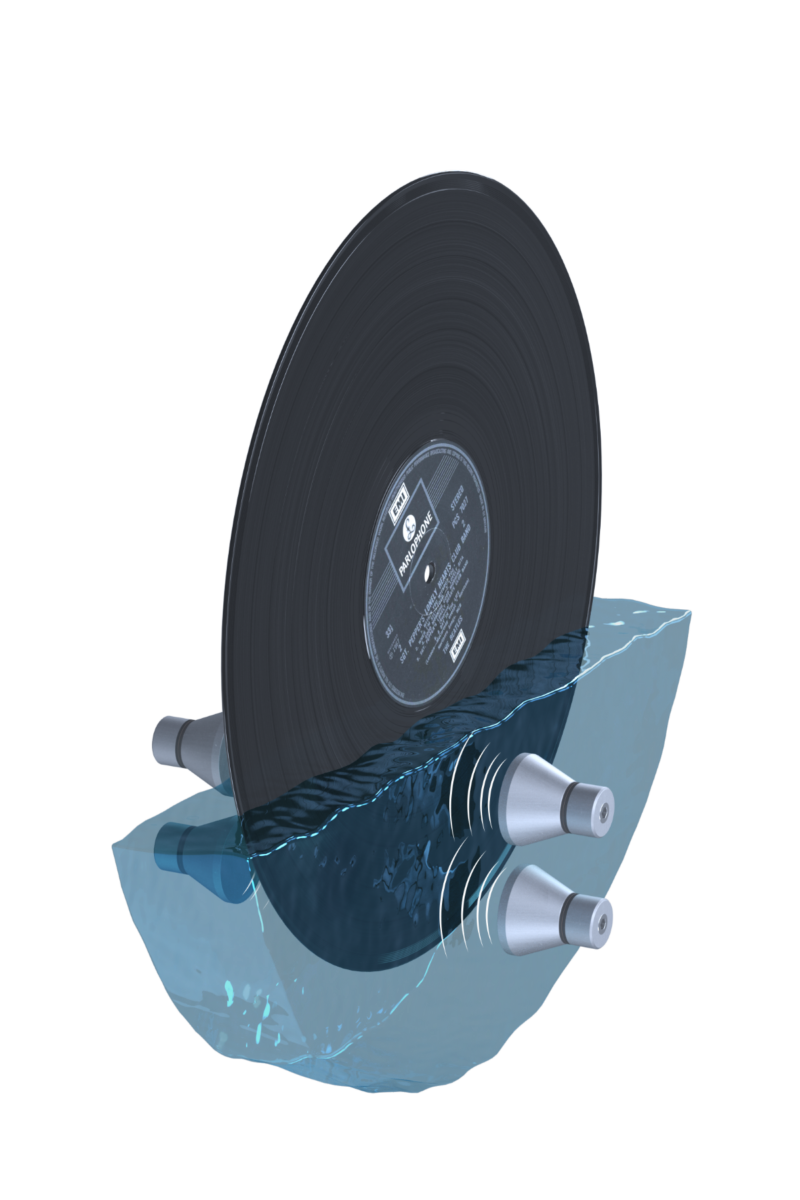 Power DriveTM 2.0 – NEW!
Pulse Mode – NEW!
Pulse Mode cleaning is a feature offered by the Power Drive 2.0 ultrasonic generator. During pulsing, ultrasonic transducers rapidly switch on and off at high power. This gives enhanced cavitation in water, but keeps the average power consumption low.
Frequency Sweep
The driving frequency of the Power Drive
ultrasonic generator sweeps between 120-125 kHz.
This evens the cavitation energy distribution in
the water, minimizing losses and giving an
uniform cleaning action.
300 Watts
The average power output of all the washing programs is 300 W. This makes Degritter the most powerful ultrasonic record cleaner on the market per litre of water. The higher 120 kHz driving frequency keeps your records safe.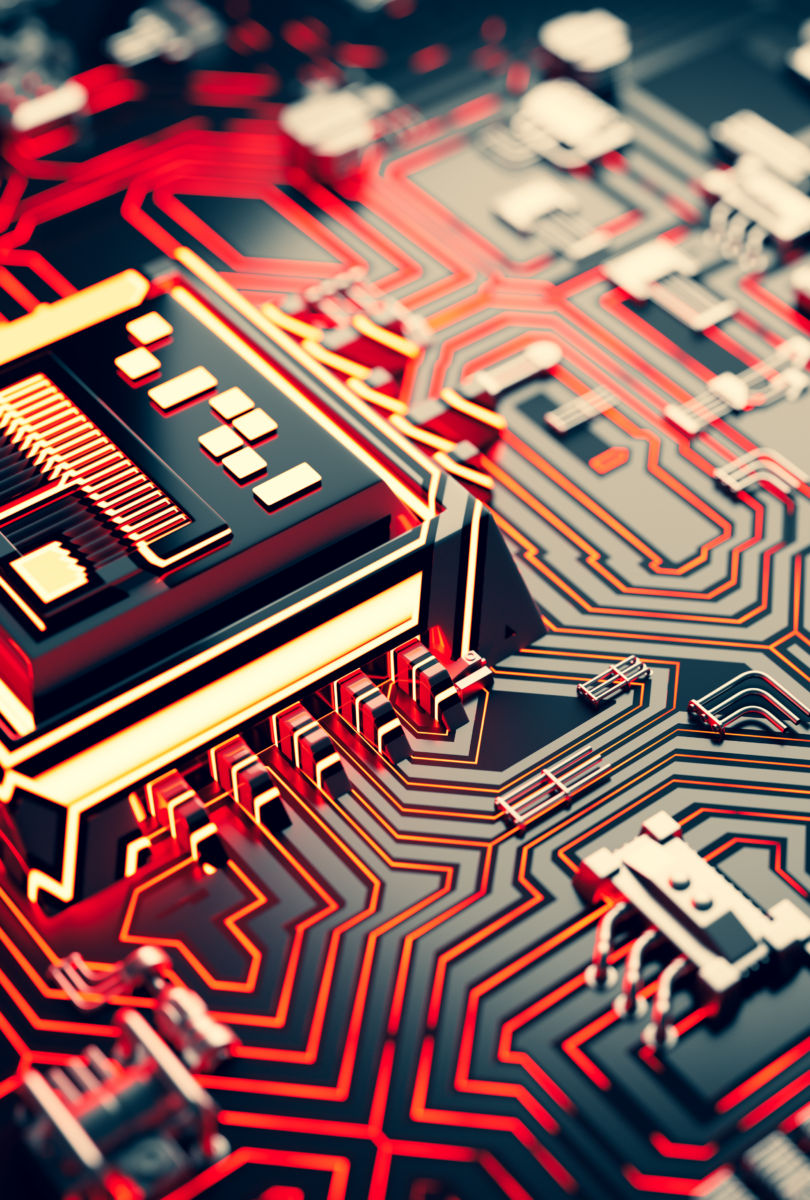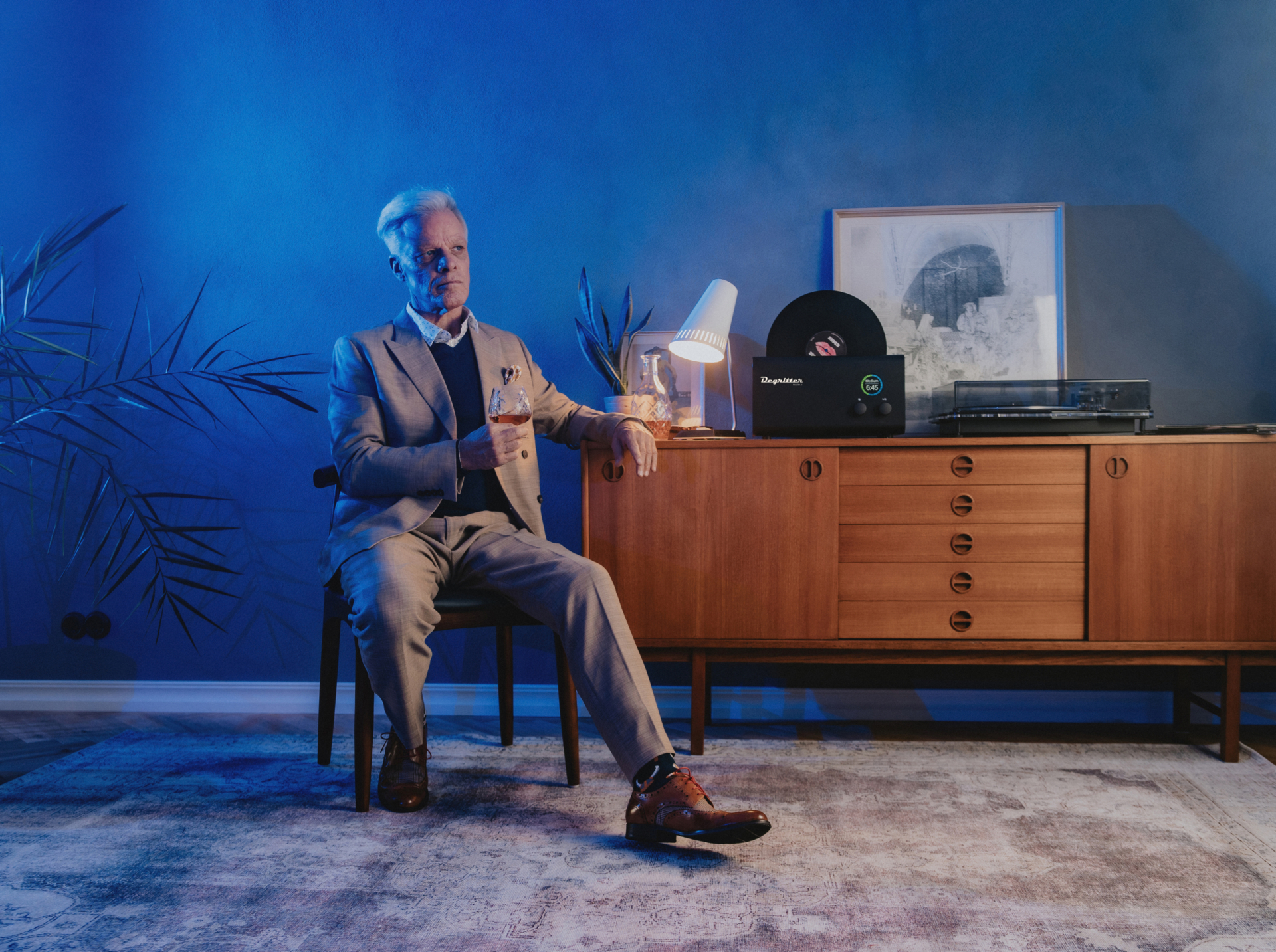 by Marc Henshall

Sound Matters

The Degritter is the best Ultrasonic record cleaning machine for home use, bar-none.
Not only are the cleaning results outstanding and the engineering super-smart, but it also feels luxurious to use day-to-day.
It's the little touches that make it feel this way, like the high-end feel of the interface and the super-soft push buttons that have a "re-assuring" feel to them.
Having cleaned over 100 records with the Degritter, I simply can't afford NOT to have this machine in my record cleaning arsenal. Read full review here: https://www.yoursoundmatters.com/degritter-record-cleaning-machine-review-best-ultrasonic/

By Jeff Dorgay

Tone Publications

We've used a lot of record cleaning machines over the last 40 years, but the Degritter tops our list. It's efficient, quiet, easy to use, and very stylish. You can get one in black or silver.
And after a solid year of record cleaning, robustly built as well. With three separate cleaning modes, the throughput is excellent.
Our publisher and a few staffers use the Degritter to excellent result, and this is the one se suggest to our readers and friends with large record collections.

by Paul Rigby

The Audiophile Man

Standards are created and are made to be improved upon. The Degritter has done just that. If you can afford it, get it. The sonic improvements are akin to a major component upgrade. More so, in fact. Frankly, the Degritter is the best record cleaning machine you can buy. Nothing else can touch it which is why I have no choice but to award the Degritter a very rare Golden Groovy, perfect score.

by Jimmy Hughes

hi-fi+

I appreciate how gentle it is and how simple to use. You can clean valuable, highly collectable discs secure in knowing they won't get marked or damaged. It's great just to press a button and have an LP cleaned/dried to a high standard with no fuss or drama in only a few minutes.

by Lee Dunkley

Hi-Fi Choice

The Degritter automatic record cleaning machine does a remarkably thorough job and is one of the most sophisticated models we've seen. It's a great addition to any vinyl collection.

by Christiaan Punter

HFA

Degritter is a must-have for everyone who values their vinyl collection. Granted, it is not cheap, but it is an investment that pays off with every record that you play. Seriously, the effect is so immense that you won't want to play unwashed albums ever again!

by Robert Harley

The Absolute Sound

The Degritter was easy to use, has many sophisticated features, appears well built, and delivered on all the promises of ultrasonic LP cleaning. It's also priced about a thousand dollars below the competition, making it a solid recommendation.
Accessories
Compatible with Degritter MARK II